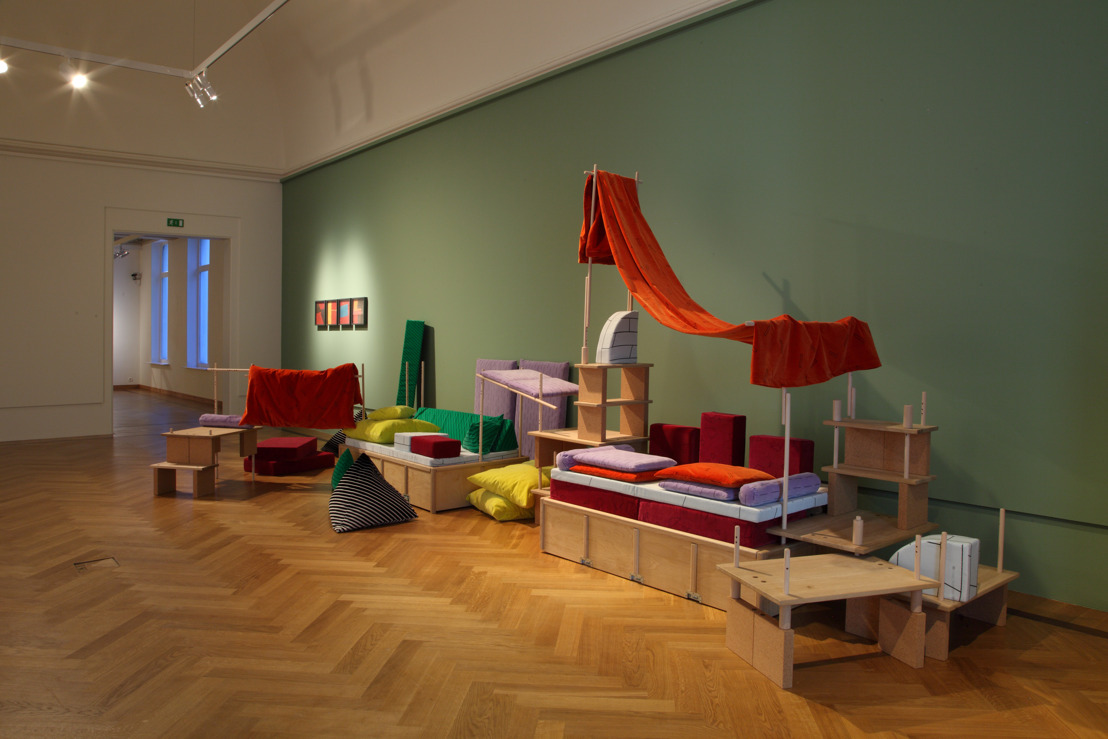 Yto Barrada opens solo exhibition at M-Museum Leuven
Friday, September 30, 2016 — Why does the rich world have such an appetite for exotic objects such as prehistoric remains? Do they differentiate between authenticity and tradition? Yto Barrada's (°1971, Paris/Tanger) photos, films and installations meditate on this duality in Moroccan history. Fossils, children's games or the ethnographic museum are just a few of the themes that she connects in her work. At M she is presenting a selection of recent works along with her latest film 'Faux départ', and the new installation 'Salon géologique'. Her exhibition is a double project with the arts trail 'Tracing the Future' as part of the 500 Years of Utopia city festival.
Fossils
Barrada began her exploration of the fossil remains of dinosaurs in North Africa in 2012, when her interest was kindled by the sale of a Moroccan Spinosaurus at a large European auction house. The artist's multidisciplinary research into North Africa's prehistory, rural history, and its contemporary corollaries led to a diverging set of inquiries. One followed the real/fake axis along the Dinosaur Road where today's specimens are unearthed, prepared, brought to market, and sometimes falsified. The film Faux départ (2015) (False Start) observes the elaborate fossil industry along this 'Dinosaur Road'. It pays homage in particular to the 'preparators' in the arid region between the Atlas Mountains and the Sahara Desert, whose intrepid work has fuelled a thriving trade in artefacts real, faux and hybrid. The film is a rebuke to the fetishistic thirst for foreign objects, a sly meditation on authenticity, and a paean to the creativity and enterprise of the préparateurs whose skilful response to demand has resulted in a flourishing trade. Faux départ won the prize for Best Short film at the Rotterdam International Film Festival in 2016. Another inquiry explores the role of ethnographers and museologists working in the region and the way they represented their subjects.
Salon géologique
Barrada also turned her formidable curiosity on Morocco's relationship with its palaeontological past, and the strange lack of context in schools, museums, and national consciousness, of this unique heritage. For this show Yto Barrada is exhibiting a series of prints of educational panels in this room, explaining the layers of the earth and geological fault-lines, which she found in the Natural History Museum project in Azilal, Morocco. The same stratified layers are present in her new installation, conceived in collaboration with designer Stephanie Marin's Smarin studio, and titled Salon géologique, in which stacked carpets and pillows – here printed with geological codes – evoke the modular Moroccan family living room. Salon géologique was conceived in dialogue with the Salon Lyautey – the reception room of General Hubert Lyautey when he was commissioner of the colossal French colonial expo in 1931. Lyautey was France's defining Resident General of Morocco from 1912 to 1925. At the same time, the installation refers obliquely to Marcel Duchamp's La Boîte-en-valise ('Box in a Suitcase'), a portable miniature monograph which contains 69 miniature copies of earlier works by the artist.
Lyautey
As Resident General of Morocco, Hubert Lyautey (1854–1934), had plans to resurrect the Moroccan Empire under French protection. In a programme ranging from agriculture and urban planning to the development of carpet crafts, he aimed to reinvent Morocco under the banner of tradition and authenticity. He launched a national project of 'heritage conservation' and planned an inventory and reorganization of artisanal crafts – Morocco's special talent – to stimulate production. In the context of Barrada's work, her sustained interest in Lyautey's legacy speaks volumes about her refusal to surrender to a simplistic notion of colonialism as nothing more than subjugation and exploitation. The bricks in Lyautey Unit Blocks spell out the name of a controversial figure. The bricks in Lyautey Unit Blocks re a colourful allusion not only to Barrada's taste for toys but also to the apartment blocks and hotels that are popping up in Morocco like mushrooms: every bit of unused land is being grabbed by property-developer capitalism, without the slightest interference from neoliberal politics. Lyautey too had grandiose construction plans for Morocco, thereby contributing to the country's nascent tourist industry.
Play and toys
Yto Barrada's work is noteworthy for its interest in pedagogy, play, toys and models, and humour as a form of subversion. The palm tree, that icon of exoticism, sagging under the weight of its symbolic duties, also occupies an important place in a number of works by Barrada. Aside from featuring prominently in her early photographic work, and lending its silhouette to Palm Sign, Barrada's illuminated statues inspired by motel signs, the palm is an important motif in the video Beau Geste (2009). The film documents a team, recruited by the artist, performing crude repairs on a palm tree that was intentionally damaged by the owner of the vacant lot where it stands. The installation Plumber Assemblage (2015) likewise reveals Barrada's penchant for the collection of vernacular objects. These pieces, acquired in the Grand Socco Square of Tangier are skilfully wrought bricolages made from various plumbing elements including pipes, faucets and spigots, used by out-of-work plumbers to signal their availability for hire. The North African Toys Series (2014-2015) consists of photographs of Berber toys, handmade for children, from the collection of the Musée du Quai Branly in Paris. Many were collected during French ethnographic missions in the 1930s.
Biography
Yto Barrada was born in France in 1971 and grew up in Tangier and Paris, where she studied history and political science at the Sorbonne. She continued her studies at the International Center of Photography in New York. Yto Barrada has shown her work all over the world in both museums and at film festivals, and her artworks have featured at Biennales and centres of the arts. She has won a series of prestigious prizes in recent years. Barrada was nominated this year for the 'Prix Marchel Duchamp' – an annual prize awarded to an important French artist.
Her work has been shown at venues including The Power Plant, Toronto (2016) Carré d'Art, Nîmes (2015), Centre Pompidou, Paris (2014), Museum of Modern Art, New York (2013), San Francisco Museum of Modern Art, San Francisco (2012), Tate Modern, London (2011) and Haus der Kunst, Munich (2010). She took part in the 2007 and 2011 Venice Biennales. Barrada is also co-founder of the Cinémathèque in Tangier.
Yto Barrada is represented by Pace Gallery, London, Galerie Sfeir-Semler, Hamburg/Beirut and Galerie Polaris, Paris.
Practical information
Yto Barrada: 30.09.16 >< 17.01.17 at M-Museum Leuven.
Curators: Stéphane Symons, Hilde Van Gelder & Eva Wittocx
Exhibition organized by M-Museum Leuven in cooperation with KU Leuven as part of the citywide Utopia festival.
Yto Barrada is a double project withTracing the Future as part of the 500 Years of Utopia city festival.
Veerle Ausloos Press and Communication, M - Museum Leuven