The art of the game
Twisted strings combines new work by Katrien Vermeire with the Cera Collection
June 28, 2016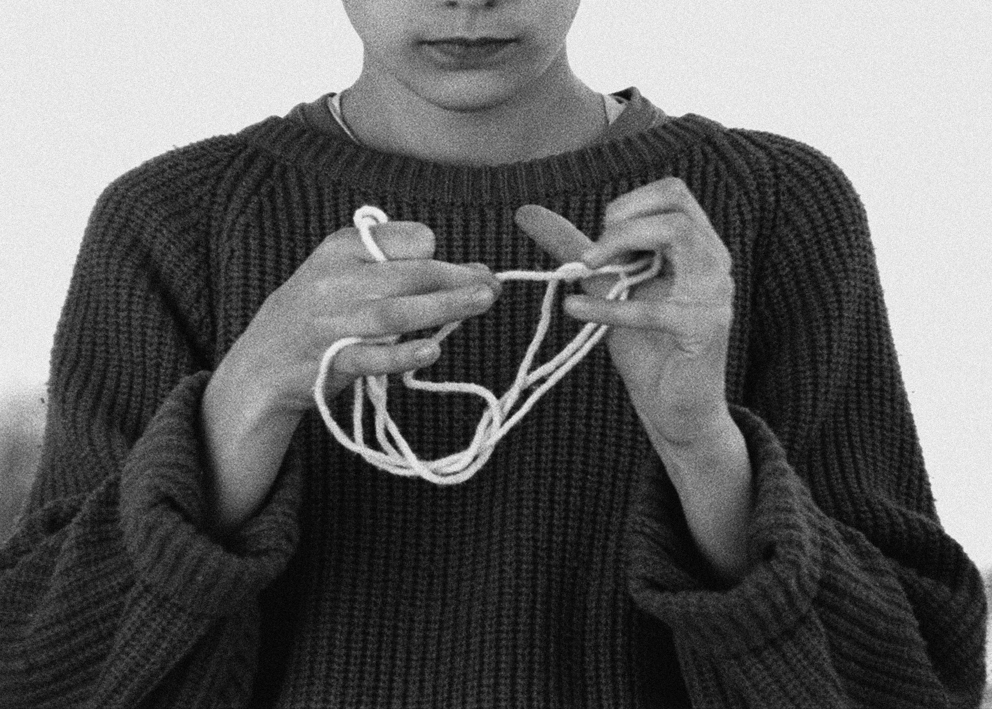 String figures, stacked aquariums, lines that connect a flock of pigeons, woven cotton thread or an orange being peeled. These are just a few examples that illustrate the playful perspective that artists have on the world. The exhibition Twisted Strings is all about this interplay of forms, colours and lines. M has selected eight artists from the Cera Collection: Amédée Cortier, Jo Delahaut, Lili Dujourie, Ann Veronica Janssens, Walter Leblanc, Caroline Van Damme, Dan Van Severen and Philippe Van Snick. Their works will be juxtaposed with new creations by Katrien Vermeire, commissioned by M.
Natural artistry
The game in which you pass along a string figure from hand to hand has been played for centuries. Katrien Vermeire (°1979) became fascinated by it and explored the tradition. "String figures are like language. Every culture has its own variant. It is not only played by children. The figures have broader significance in religion, astrology and mythology." With a photo series and 16mm film, Vermeire not only reveals the elegant and rhythmic movements of the string, but also the poetry of the patterns and figures. The sequence of images is like a story without words, just like the string figures themselves.
The traces of the game in the Cera Collection
M selected 25 works by eight Belgian artists from the Cera Collection, a collection of Belgian contemporary art that currently resided at the museum on long-term loan. Their visual language focuses on forms and lines.
Ann Veronica Janssens (°1956) is best known for her delicate sculptures made of simple, transparent and reflective materials. For example, Bain de lumière (1998), an installation of stacked aquariums in front of a window, reflects the landscape upside down.
The formal language of Philippe Van Snick (° 1946) is closely aligned with conceptual art. In addition, he explores ways of ordering his everyday observations, such as connecting points and lines. The works (0-9) Chair (1975) and Pigeon and Pigeons (1974) are fine examples. Van Snick wraps ten wires between the legs of a stool or connects pigeons to one another in the air with thin lines as though it were child's play.
In Coral, Lili Dujourie (1941), the pioneer of Belgian video art, shows her hands peeling an orange. Elegant hands perform an everyday action. The segments of fruit each disappear from view and ultimately, the whole fruit is gone. By magnifying this everyday action, Dujourie not only imbues it with a sacred significance, but also reflects on the destruction of a form and transience.
Amédée Cortier (1921-1976) and Dan Van Severen (1927-2009) both evolved from expressionist to abstract painting. For Cortier, colour and form had to become one in painting. The portions of colour became increasingly important, and his work thus gradually became monochrome. M is presenting three monochrome varnished panels with slight relief, from his final period. Dan Van Severen likewise searched for the essence of art. His aim was to achieve maximal expression through minimal means. This led him to the cruciform as a universal form. It became the key element of all his later compositions, as is clear in this exhibition.
Painter Jo Delahaut (1911-1992) is one of the key figures in geometric abstraction in Belgium. Although Delahaut's oeuvre is primarily characterized by geometric forms, in Germination lines twist across the canvas.
The work of Caroline Van Damme (°1955) looks almost as though it was painted with a ruler. White lines break cut through paintings that are carefully constructed from various acrylic layers. They are often the product of years of research. M is presenting a selection of sketches and paintings.
In Twisted Strings by Walter Leblanc (1932-1986), woven cotton threads are stretched across a monochrome cotton surface. The work appears to vibrate before your eyes. This produces a masterful interplay of shadows: of the visitor, the cotton, and the sun throughout the day. This form of optical art aligned Leblanc with the international avant-garde movement.
String pavilion
Room 18 contains a string pavilion where you can explore the literature on string figures, actively participate through questions and assignments in line and form, or build a big string figure. Furthermore, there is a dance workshop for families, 'String Figures', which will take place on 24.07, 07.08 & 21.08. During Car-free Leuven on Sunday, 28 August, admittance to the museum is free and in addition to the other family activities, you can watch the video 'Kreislauf' by Katrien Vermeire.
Practical information
Curator: Tine D'haeyere
Twisted Strings from 24.06.16 >< 04.09.16 at M-Museum Leuven
List of works (pdf)
PDF - 232 Kb
Download
Press file (pdf)
PDF - 114 Kb
Download
Veerle Ausloos
Press and communication, M - Museum Leuven