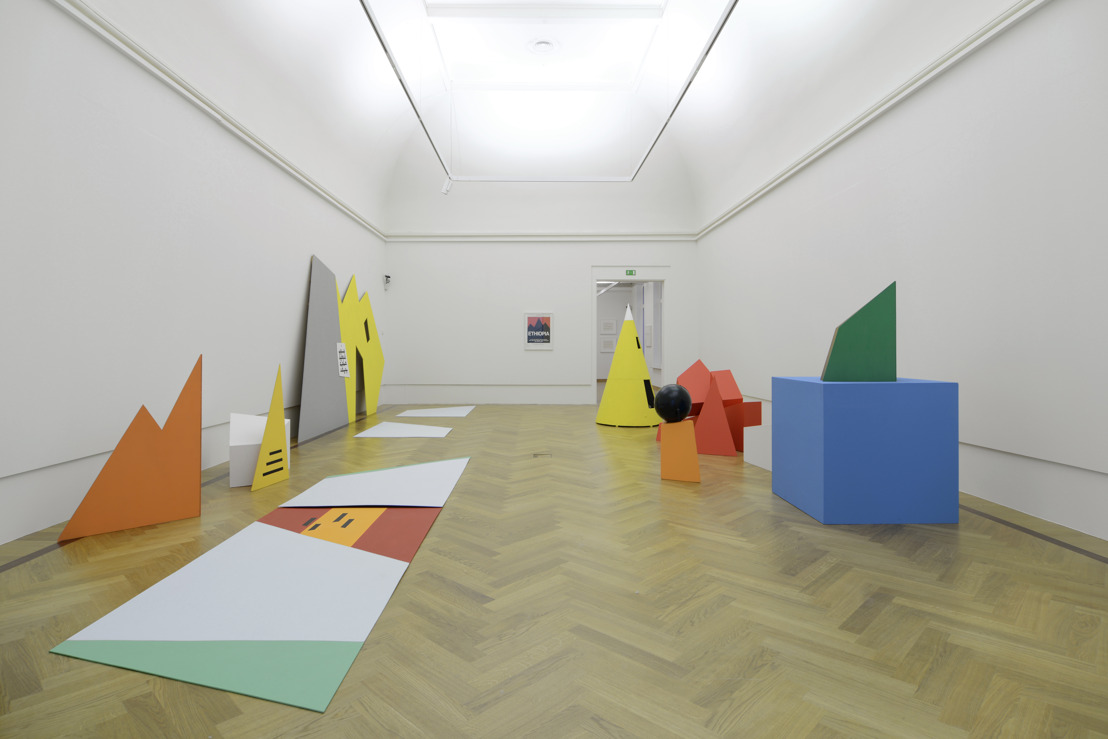 M opens Guy de Cointet retrospective
Brave the outermost wilderness of language
Thursday, September 17, 2015 — An autumn full of contemporary art begins on 17 September with an exhibition devoted to Guy de Cointet (Paris 1934–Los Angeles 1983). For the first time in Belgium, M-Museum Leuven is presenting a retrospective of his visual art from 1965 to 1982. The exhibition, which features a selection of drawings, sculptures, sketchbooks, stage sets and documentary materials, runs until 10 January 2016.
Guy de Cointet
'He's a mild-mannered Frenchman who braves the outermost wilderness of language by fashioning plays, operas, books and drawings that make alphabet soup of our most cherished linguistic packaging.'
The French artist Guy de Cointet emigrated to the United States in 1965, where he discovered the Pop Art of Andy Warhol and Minimal Art, both of which are a visible influence on his work. He moved to Los Angeles in the late 1960s, where he worked as an assistant to the artist Larry Bell. His work explores the ways in which language is used in advertisements, conversations, literature, soaps and radio, allowing it to be read as a kind of code capable of generating endless variations. He stripped language down to visual puzzles and codes, in which the attempt to decipher is more important than the solution. De Cointet confronts you with the impossibility of interpreting anything unambiguously.
De Cointet's Rosetta Stone
ACRCIT is one of de Cointet's earliest works. It takes the form of a newspaper published in a large print run and distributed free of charge in the streets of Los Angeles. De Cointet viewed it as his 'Rosetta Stone', comprising an overview of the systems that underpin his drawings and books, such as crossword puzzles, mirror writing, number series, Morse code, Braille and decorative motifs. M has produced a new edition of the paper for the exhibition, where you can get a free copy.
Visual puzzles and codes
Guy de Cointet produced over 200 drawings between 1970 and 1983. In the earliest of these, he toyed with Arabic numbers, Roman letters and mirror writing. The exhibition has a large drawing, for instance, from 1971; done in mirror writing, it resembles a page copied from a newspaper. What you read are fragments from a health guide, an adventure novel and a scientific article. This assembly of sources from popular culture, literature and everyday life is a thread running through Guy de Cointet's work. In addition to mirror writing, there are various drawings with striking additions, subtractions or multiplications. What appear at first sight to be complex mathematical formulas often have visually intriguing solutions. One early drawing features a version of Mohammed's signature. Two interlocking crescent moons, one reversed, resemble a drawing exercise on paper. A text in mirror writing reads: 'I dare say Muhammad drew in one stroke, with the point of his scimitar, his signature of two crescents back to back.'
The artist began in the early 1970s to give evocative titles to his drawings, including quotes from authors like Edgar Allan Poe and Jorge Luis Borges, and references to exotic places. The titles are clues to deciphering the works, but never explain them. An example is the drawing In Tacuar everyone knew him as an Englishman from Oaxaca (1971–76), in which he pulls the traditional alphabet apart into a series of dashes. The drawings from 1978 to 1982 do not refer to a recognisable language, but play a graphic game. After 1982 it is no longer possible to identify the underlying grid or code.
Performances
Beginning in the 1970s, Guy de Cointet staged 23 performances, in which his love of soaps and TV was obvious. His sets, like that for Ethiopia (1978), consist of minimal, colourful objects. A cone, a sphere or a house are active protagonists with their own feelings and thoughts. Stylish 'Hollywood'-type actors perform his scripts with elegant exaggeration. In Tell Me (1979), for instance, you see a set with 65 coloured objects and three women waiting for a fourth person. You hear absurd dialogues comprising scraps of sayings, advertising slogans, overheard conversations, etc. This broken speech enabled him to play with the sound and rhythm of language.
Practical information
Guy de Cointet at M-Museum Leuven from 17.09.2015 >< 10.01.2016
M-Museum Leuven is presenting two of Guy de Cointet's live performances from the 1970s at the Playground festival in November.
Curator: Eva Wittocx
In collaboration with Estate of Guy de Cointet/Air de Paris.
The exhibition is part of the 'Alfred Jarry Archipelago' programme, in collaboration with La Ferme du Buisson (Noisiel), Le Quartier (Quimper) and Museo Marino Marini (Florence).
Veerle Ausloos Press and Communication, M - Museum Leuven