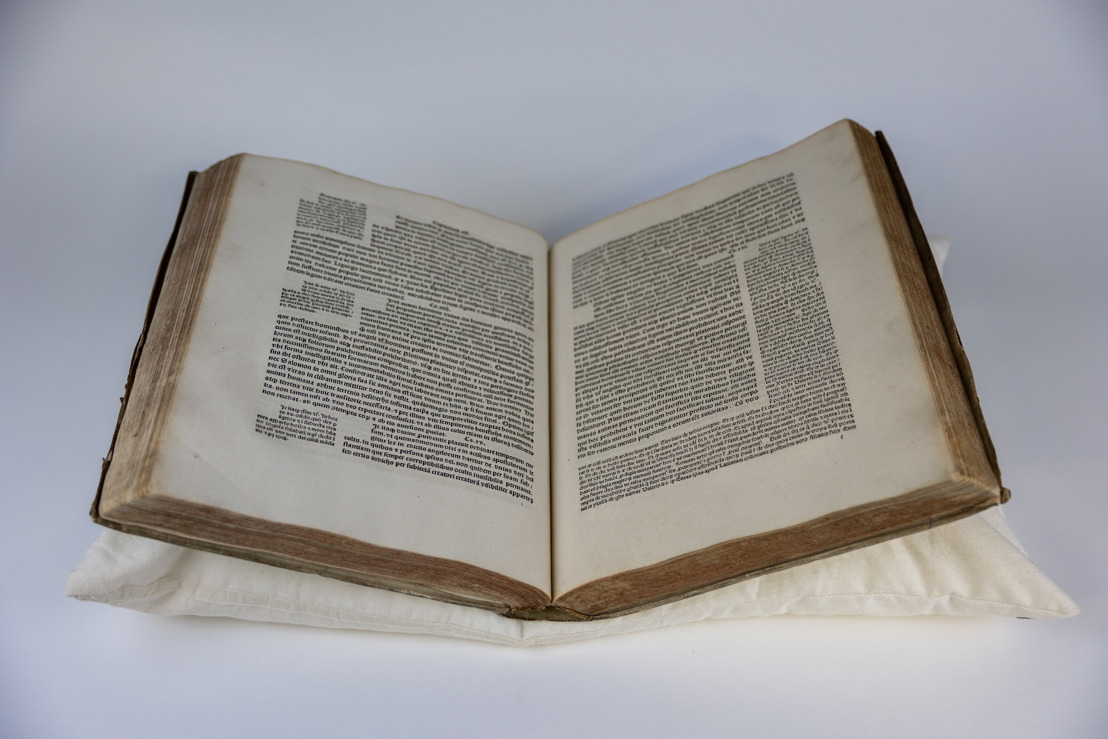 M Leuven handles old prints
New cooperation between M and Flanders Heritage Library
Wednesday, May 19, 2021 — Earlier this month, M Leuven started a new collaboration with Flanders Heritage Library. Over the next two years, some 500 old prints from M will be added to the Short Title Catalogue Flanders or STCV. It concerns works printed in Flanders before 1801.
The 'Boek/Delen' project
In this project, M is registering, digitising and publishing its diverse collection of old prints, manuscripts and print albums for the first time. One of the components of the project is an STCV collaboration between M and Flanders Heritage Library.
"M has a wonderful collection, but there not enough space in the museum to exhibit all of it. That is a shame both for researchers and for our visitors," says Denise Vandevoort, alderman for culture and chair of M's Board. "That is why we are committed to digitisation. A good example of this can currently be seen in the 'Druk!Werk!' exhibition. This project is an excellent way to showcase our Leuven city collection."
STCV's project manager guides M in making the pieces accessible. Having gone through training, the employees of M then register the Flemish selection in the catalogue themselves. It concerns a large collection of early modern prints which originally came from the collections of Edward van Even (1821-1905) and Victor Demunter (1858-1939), the first curators of the former municipal museum, which since 2009 has been M Leuven.
A large number of the old prints were printed in Leuven or have something to do with the content of the university town. For instance, M owns an incunabula, a book or writing printed before 1501 and set with loose letters, which was printed in Leuven in 1488 by the printer Joannes de Westfalia Paderbornensis.
"Thanks to the cooperation with STCV, M can provide insight into Leuven masterpieces to a wider research audience insight," says Marjan Debaene, head of collections at M. "Our M collection is very extensive so by digitising the works, more people get to see them and they can be studied more easily."
Prints Room
The M collection has more than 52,000 works from many places including Leuven and the wider Brabant area, about half of which consist of prints, drawings, albums and old prints. A prints room like this must be cared for. The objects are studied, they receive conservation and restoration treatment, and their preservation is constantly optimised. To ensure that more people can see the objects, they are digitised in high resolution and made public.
About STCV
The non-profit Flanders Heritage Library is a network of heritage libraries that focuses on written, printed and digital heritage collections of libraries. Through various projects and research, the aim is to develop expertise and disseminate knowledge concerning digitisation, preservation and making accessible of preservation collections. The non-profit organisation does this by entering into STCV cooperation with Flemish institutions, among others.