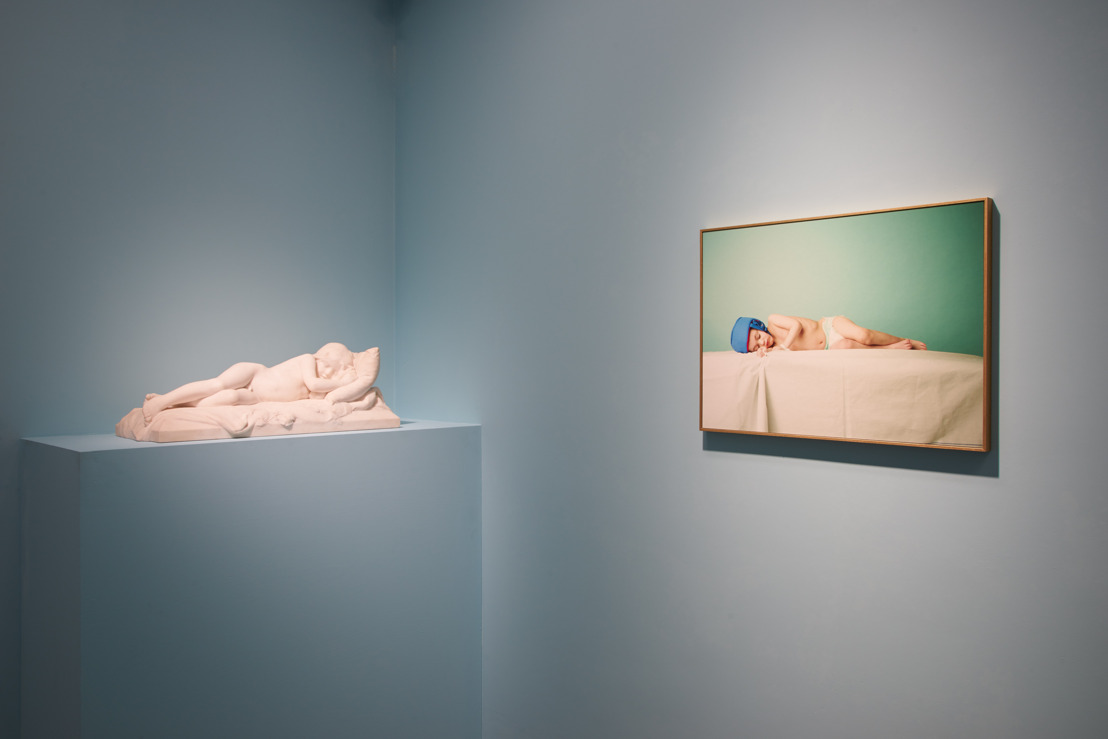 Lieve Blancquaert photographs the scratches on the soul
Thursday, June 9, 2016 — How do you view our collection of early art?' This was the question M asked the photographer Lieve Blancquaert eighteen months ago. She noticed during her visits how frequently the Old Masters depicted human suffering, sorrow and love. Just as she does today. This became the thread running through the exhibition 'Ecce Homo | Behold the Man'. Lieve Blancquaert is presenting her version of this centuries-old artistic tradition and inscribing herself in the M collection with her photographs.
Refugees wrapped in blankets, a cut-up, blood-stained T-shirt, a video of a Syrian mother who lost her son, and portraits of victims with a physical injury: these are just a few of the series that Lieve Blancquaert (1963, Ghent) recently photographed for M. She is touched time and again by the human story, without which, there's no good picture for her. So don't expect journalistic or medical reportage at M: her photographs focus on serenity and monumentality.
M collection as inspiration
Wooden sculptures from the Middle Ages, Rogier van der Weyden's painting of the Seven Sacraments and a Permeke landscape all inspired Lieve Blancquaert to create new works. Rather than seeking to put herself on the level of these historical artists, she wants visitors to look at their art with fresh eyes. Take the Pietà, in which Mary holds the dead Christ in her arms. Scenes like these can be found today, too. In her video, for instance, Lieve shows a Syrian woman talking in Arabic about the loss of her son. Wooden statues from the collection stand around her like silent witnesses. Or walk through the corridor with the nineteenth-century portraits of children. 'They're all so perfect; with rosy cheeks, like characters from an old-fashioned kid's book. I've hung a portrait in between them of a girl from a psychiatric unit. There can be sadness too behind the sweet appearance.'
Contemporary Nativity
Lieve Blancquaert made several photographic series of refugees for the exhibition. She shows in one of the galleries how refugees are reduced to rags in the course of their journey. Her triptych was inspired by the drama that textiles, cloth and carpets lend to the paintings in this room. 'Seeing my work hanging alongside Rogier van der Weyden's Seven Sacraments takes me well outside my comfort zone'. For this triptych I photographed a sort of contemporary Nativity scene in a refugee camp in Dunkirk. It is a family of Iraqi refugees: father, mother and their son. They are wrapped up in blankets to keep out the bitter cold.' Elsewhere in the exhibition, she links the Flemish landscape of Permeke and a wooden torso of Christ with the landscape in which the refugees wash up. She shows a series of photographs, in which male boat refugees are wrapped in gold thermal blankets. The final gallery focuses on unaccompanied refugee children. 'I'm presenting photos of sleeping children, which evokes a sense of security and tranquillity. It's very peaceful. You can also hear children singing lullabies in Dutch, but with a heavy accent. The effect is vulnerable and moving, but also hopeful.'
Pieces of clothing as relics
Lieve presents a series of photographs of cut-up clothes opposite a deep-red wooden panel showing Veronica's sudarium, with its miraculous imprint of Christ's face. She took them during a week spent at the Accident and Emergency Department at Ghent University Hospital – an extremely powerful experience. 'We agreed that no people would appear in the pictures. While I was there, I photographed the victims' clothes, which were cut up to allow the patients to be treated quickly. Contact with the victims' families was very intense. You're turning up at the worst imaginable moment in their lives, so you have to find precisely the right tone. All the same, virtually nobody refused. It's amazing how much importance family and friends attach to their loved one's personal things. They seek comfort in an ordinary T-shirt, which suddenly becomes a kind of relic.
Mosaic
'Ecce Homo | Behold the Man' explores the interaction between Lieve Blancquaert's work and items in the M collection. Together, they form a mosaic that shows human beings as marked by fate and by life, and who are finite. The exhibition runs from 10 June 2016 to 17 January 2017 at M Museum Leuven.
Practical information
Lieve Blancquaert. Ecce Homo | Behold the Man
10/06/2016 >< 17/01/2017
Curators: Peter Carpreau, Marjan Debaene
Veerle Ausloos Pers en communicatie, M - Museum Leuven