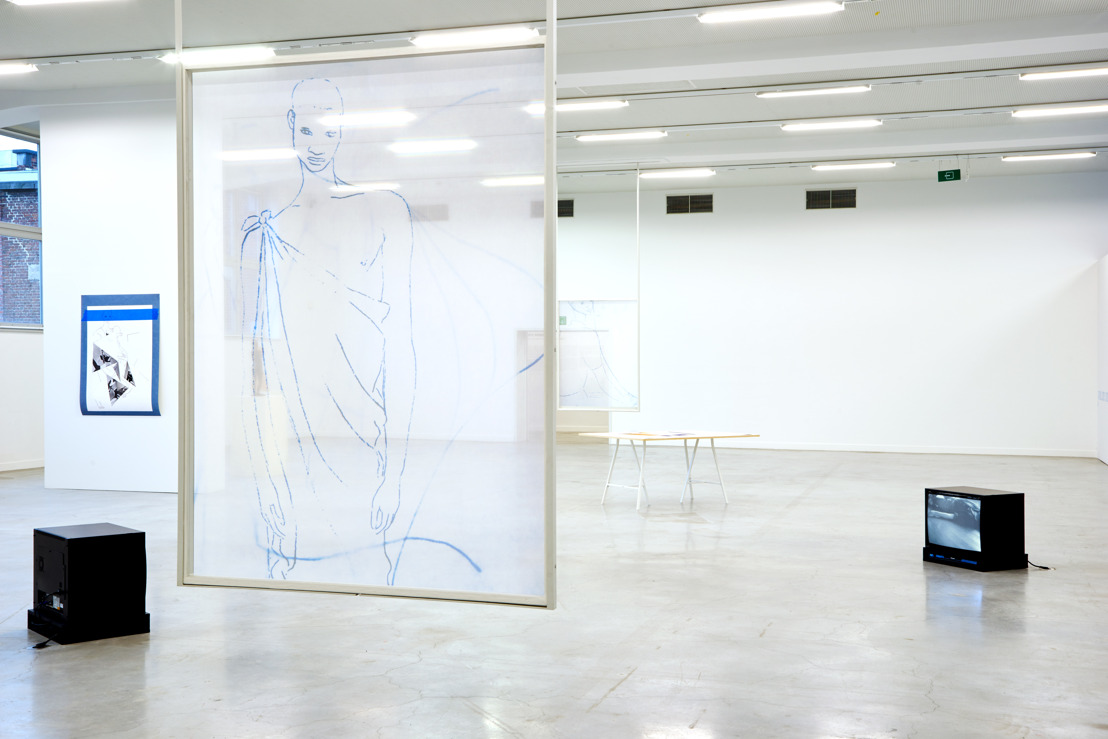 Jimmy Robert opens first solo exhibition in Belgium at M - Museum Leuven
A clean line that starts from the shoulder
Wednesday, November 25, 2015 — In his first solo exhibition in Belgium, Jimmy Robert presents a new comprehensive installation. In A clean line that starts from the shoulder, he explores the relationship between lines, movement and form. Androgyny, movement and the vulnerability of the body are the central themes in Jimmy Robert's collages, films and installations. This is expressed, among other things, in the use of fragile materials such as silk and paper.
Each of Jimmy Robert's works are autonomous and independent, but they were also used as props in the performance that took place exclusively on the opening evening of the exhibition. He considers the exhibition and performance to be complementary. Jimmy Robert: "The sculptures and objects demand interaction and the performance can also be considered as a kind of stylized tour that suggest a certain interpretation of the works."
Jimmy Robert's works are often based on existing artworks, to which he adds new layers of meaning. For this exhibition, he has used the work of the Romanian-Belgian artist Idel Ianchelevici (1909-1994), the Belgian Lili Dujourie (1941) and the Dutch conceptual artist Stanley Brouwn (1935). He was also inspired by quotes from fashion magazines published in the seventies, such as Vogue, which refer to lines, movement and the body. The exhibition blends texts, images and sculpture. This has formed the foundation of Robert's artistic practice for some time.
Every autumn, on the occasion of the Playground Festival, M presents work by upcoming artists whose visual work converges with performance. Playground is a collaboration between M and STUK. Jimmy Robert took part in the festival with the première of his performance A clean line that starts from the shoulder. He also invited two other artists to the festival: Maria Hassabi and Julian Weber.
Bio
Jimmy Robert (1975, Guadeloupe) lives and works in Bucharest (Romania). His visual work has previously been presented in solo exhibition at The Power Plant, Toronto (2013), 1857, Oslo (2013), MCA, Chicago (2012) and Musée du Jeu de Paume, Paris (2012). Robert has presented his performances at Playground at STUK, Leuven (2008) and more recently at Migros Museum, Zurich (2015), Teatro Ipanema, Rio de Janeiro (2012), Kunsthalle Basel (2011) and South London Gallery, London (2010). His work is represented by Galerie Diana Stigter in Amsterdam and Tanya Leighton Gallery in Berlin.
More information
Jimmy Robert. A clean line that starts from the shoulder. Until 28.02.2016 at M - Museum Leuven.
See below for the downloadable information about each of the works in the installation
Curators
Eva Wittocx & Valerie Verhack
Veerle Ausloos Pers en communicatie, M - Museum Leuven