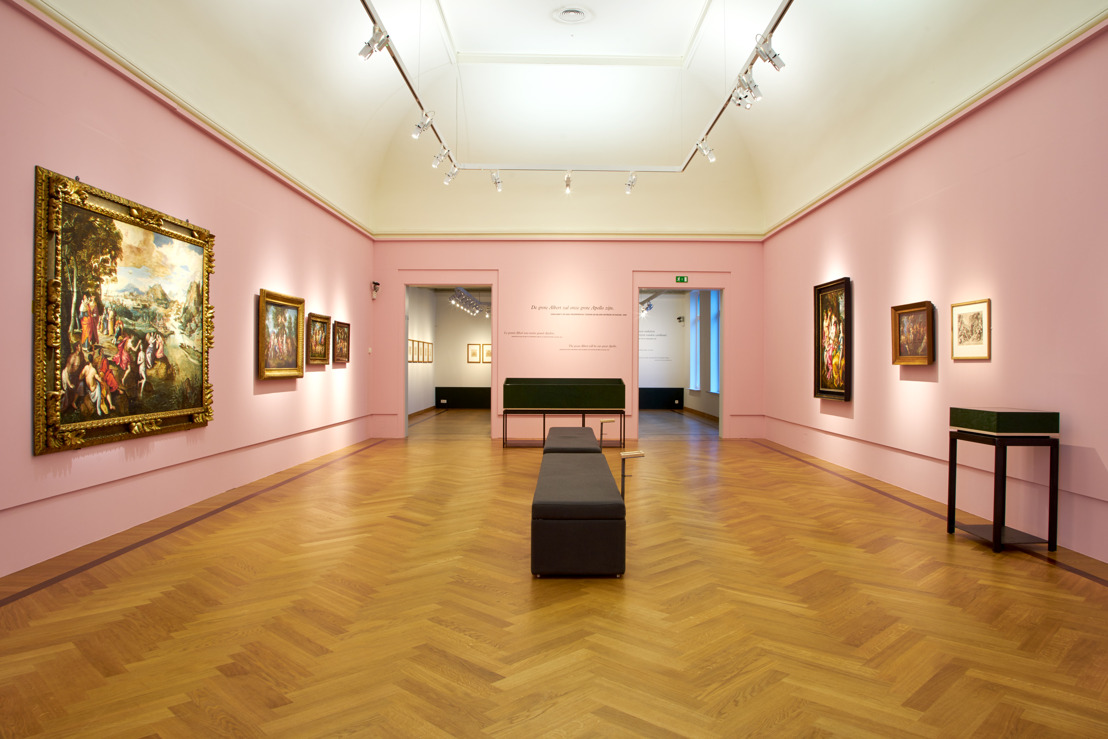 Hendrick de Clerck. Albert and Isabella's spin doctor
Propaganda avant la lettre
Wednesday, February 10, 2016 — The Brussels painter Hendrick De Clerck (ca. 1560-1630) might best be described as the spin-doctor to Archdukes Albert and Isabella. During his incredible career, this contemporary of Rubens created an oeuvre to match the ambitions of his monarchs. His artworks may look like ordinary mythological and religious tableaux, but that is just appearance. Starting on 11 February, you can come and decipher his propagandist visual language at M - Museum Leuven.
Hendrick De Clerck (ca 1560-1630)
Hendrick De Clerck was a contemporary of Peter Paul Rubens. Nevertheless, nothing in his paintings looks like the bravado pieces by Rubens. His style of painting was influenced by the latest fashions at the Habsburg courts in Central Europe. By adopting this style and tradition, De Clerck sought to profile the court in Brussels as equal to the imperial court in Prague.
Propaganda avant la lettre
The painter Hendrick de Clerck (c. 1560–1630) might well be described as the 'spin doctor' of Archduke Albert and the Infanta Isabella. A contemporary of Rubens, he shot to fame with a body of work that perfectly matched his sovereigns' ambitions. When the Archduke and Infanta set their sights on the imperial crown in the late 1590s, it was De Clerk who led their visual campaign. Albert and Isabella's court in Brussels vied with those of the leading royal houses of Europe, not least through a visionary artistic project for which they recruited the most successful Brussels painter of the time. De Clerck drew and painted a political programme that was perfectly tailored to the archducal couple. There is more to his mythological and religious scenes, therefore, than might appear at first sight: this was political propaganda avant la lettre. 'The sky is literally the limit in De Clerck's paintings', says Curator Katharina Van Cauteren. 'The Archduke and Infanta had their eye on the imperial crown and had everything to gain from the right image. That's why they are shown as heroes and gods.'
The same 16th-century themes and visual mechanisms can still be found in political image-formation to this day. This is highlighted in the interviews with Prof. Luc Duerloo (UA) and Prof. Bart Kerremans (KUL). They look not only at the role played by Albert and Isabella's court, but also at the use of spin doctors in US presidential elections.
Ambitious project
The exhibition will help visitors unravel the artist's propagandist imagery. In addition to paintings by Hendrick de Clerck himself, Bartholomeus Spranger, Maerten de Vos, Otto van Veen, Peter Paul Rubens and Jan Brueghel the Younger , you will see rare drawings by De Clerck and a Wunderkammer – a cabinet of curiosities. Together, they paint a picture of the ambitious lifestyle and mentality of these early-modern rulers and of a fascinating episode in the history of the Southern Netherlands.
Publication
The exhibition is accompanied by the book Politics as painting: Hendrick de Clerck (1560–1630) and the archducal enterprise of empire. In this publication by Lannoo, curator Katharina Van Cauteren tells the story of Hendrick de Clerck, his connection with the Archduke and Infanta and the political significance of his paintings. The book is available in Dutch and English and is for sale at the M bookshop for 65 euros.
Practical information
Curator: Katharina Van Cauteren
Hendrick De Clerck. Albert and Isabella's spin doctor: 11.02.2016 >< 15.05.2016 at M - Museum Leuven.
Veerle Ausloos Press and Communication, M - Museum Leuven