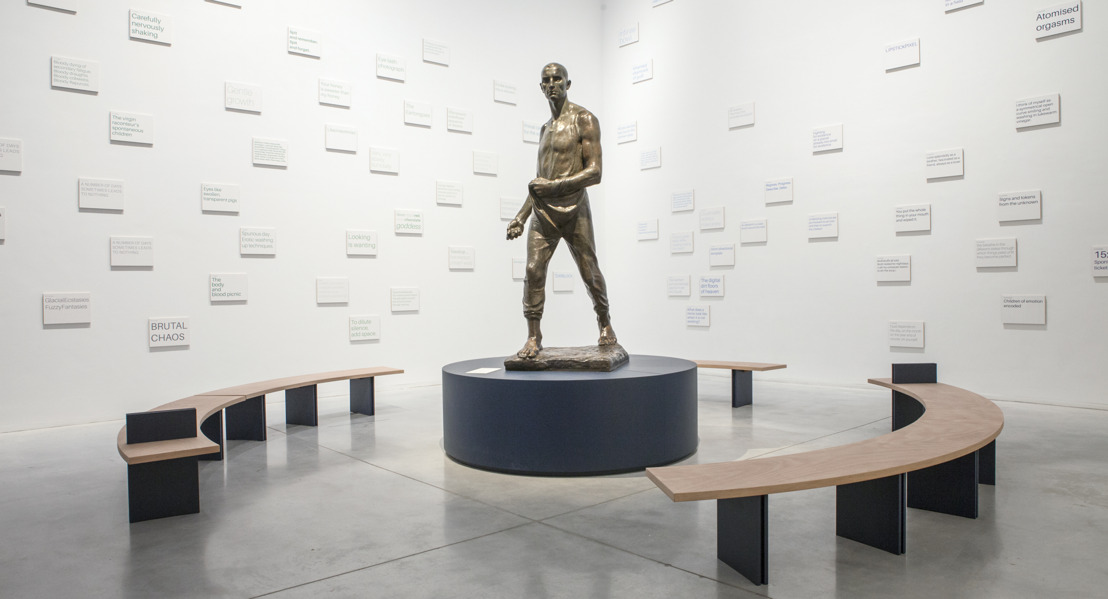 From today, M will look completely different again
The museum is showing its collection in three new exhibitions and on your mouth mask
If you think you've seen it all at M Leuven, you're wrong. The museum is showing a different side to its multifaceted collection in three new exhibitions. You will see both collection pieces that are rooted in the history of Leuven and contemporary works by national and international artists. "We don't only show our collection in the rooms, but also on our own mouth masks that we offer starting Saturday", says Denise Vandevoort, Chair of M.
"M is a museum that is in constant flux. We seek to ensure that our visitors discover new things every time they come to the museum. That is why we are bringing a very different part of our collection out of storage and into the exhibition rooms. We are presenting these works in three thematic exhibitions entitled 'Moved', 'Take Your Time', and 'The Seven Sacraments'. Each of these exhibitions brings old and contemporary art into dialogue and breathe new life into forgotten traditions, confronting them with the present", says Denise Vandevoort, Chair of the Board of Governors of M.
Take Your Time
The first museum room has been completely transformed for the new exhibition 'Take Your Time'. "As you can tell from the title, the theme is time, and how artists and visitors deal with time. Some of the works we're presenting tell a story. Others refer to the passing of time. Or they change when you take the time to look at them from a different angle", Lore Van Hees, one of the curators, tells us. "The exhibition makes you reflect on the role of time in art through both old and contemporary works. For example, a medieval Calendar Dial hangs beside an abstract work by Ann Veronica Janssens."
"The message to the visitor is: think about how the artists use time and depict it in their work. And above all, take your time to look at the works, to let all the details sink in", co-curator Peter Carpreau adds. "In an age in which we spend an average of 23.68 seconds looking at an artwork – including taking a selfie – M seeks to be a place where visitors are challenged to take their time, reflect and really look at art."
Moved
"In the collection presentation 'Moved', you can (re)discover forgotten rituals and customs that used to punctuate the year in this area and bring communities together. We are showing rare objects that were literally and figuratively intended to move and be moved. For example, you can see the extensive wardrobe and silver accessories of a statue that was carried in procession, but also a house altar, precious reliquaries and other exceptional religious objects", curator Marjan Debaene says.
"Ancient rituals are brought back to life through personal testimonies and historical visual materials. At the same time, these traditions are confronted with contemporary forms of worship and veneration. The link with Leuven is never far away: the majority of the objects exhibited come from important churches and historic sites in Leuven."
The Seven Sacraments
Finally, there is also a focus room centred around the masterpiece 'Triptych with the Seven Sacraments' by the Flemish Master Rogier van der Weyden (1399/1400–1464). "This masterpiece of medieval painting has been on loan from the KMSKA since 2009. In this focus room, the work is accompanied by a number of rare art objects dating from the fifteenth to the eighteenth century, which were all used in the rituals and customs associated with the seven sacraments. A number of these pieces are absolute gems of late medieval metalwork that come from important historical sites in Leuven", says Ko Goubert, curator of 'The Seven Sacraments'.
You can book your visit at www.mleuven.be .
As of Saturday, wearing a mouth mask is mandatory in Belgian museums. That is why M offers its own mouth masks, with a detail from 'The Last Supper' by Flemish Master Dieric Bouts, which can be seen in Leuven's Sint-Pieterskerk as part of the permanent exhibition 'Between Heaven and Earth - Discover The Last Supper by Bouts '. The proceeds go to the M-LIFE museum fund.
If you would like to discover the M collection with the whole family, you can so via the family tour Vlieg!.
On 10 July, the permanent exhibition in the restored Saint Peter's Church will reopen to the public. Admission to the church during opening hours is free. You do not need to book in advance for the family tour. If you would like to discover the artworks via the digital experience, however, we ask that you book a timeslot in advance at www.diericbouts.be.
---
If you have any questions about the exhibition, requests for additional visual materials or interviews with the curators, please contact persm@mleuven.be