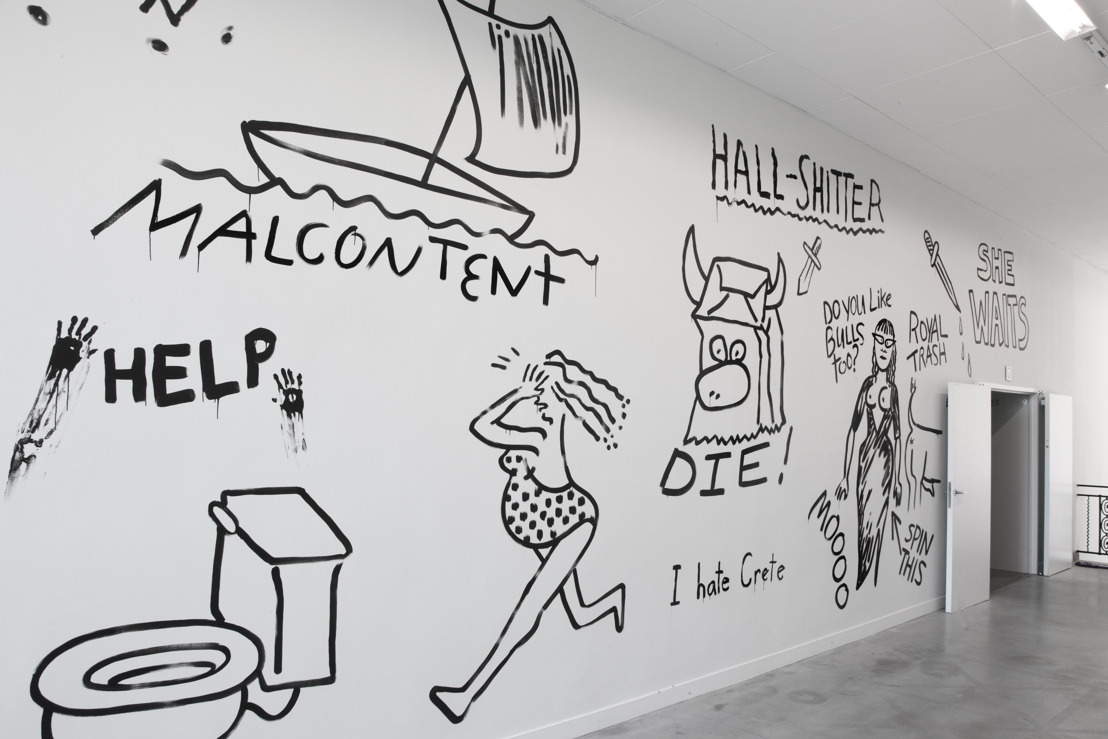 First Belgian solo exhibition for Mary Reid Kelley
Friday, September 30, 2016 — A minotaur or a 19th-century Parisian grisette. These are just a few of the characters in the work of Mary Reid Kelley (°1979, Greenville, South Carolina). She plays these historical figures in her videos, and uses costumes, masks and poetic wordplay to create black and white films that are strongly reminiscent of the graphic novel. She observes gender, desire and vanity, and connects classical tragedies with pop culture and contemporary literature.
On 30 September, the very first Belgian solo exhibition devoted to the American artist opened in Leuven. She will present several works, including her video trilogy about the myth of the minotaur (Priapus Agonistes (2013), Swinburne's Pasiphae (2014) and Thong of Dionysus (2015)), a 19th-century Parisian grisette in The Syphilis of Sisyphus, as well as drawings and a mural. Furthermore, at the Playground Festival from 17 until 20 November, she will present her performance 'This is Offal'. This work premièred at the Berliner Festspiele and will be presented in Belgium for the first time.
Expressive in black and white
The black and white films by Mary Reid Kelley and Patrick Kelley are two-person shows: from the preparatory research, scripts, performing and decors, to the heavy clownish makeup, costumes, filming, digital sets, storyboarding and editing. In the films Mary Reid Kelley plays most of the characters herself. Her own eyes are
always covered by abstract representations of eyes, whereby the face becomes a kind of cartoonish mask. The abstracted costumes, props and sets are made using her drawings and paintings. Sharp, black contours used to accentuate forms give the imagery a graphic quality. Her films are thereby also evocative of the hand-made
character of early cinema such as the expressive silent films.
The Syphilis of Sisyphus, 2011
The Syphilis of Sisyphus recounts the story of Sisyphus, a pregnant sex worker in 19th-century France. Here Mary Reid Kelley highlights the position of women in the past, a subject that often remains neglected in our view of history. Through the character Sisyphus, Reid Kelley parodies the pessimistic notions of the French poet and art critic Charles Baudelaire (1821-1867) who eventually died from syphilis. This film is the earliest work on view in this exhibition. It sets itself apart from the more recent video trilogy through the artist's loyalty, in terms of décor and
costume, towards the historical period in which the film is staged. While by contrast her use and language and humour in the film are contemporary, resulting in an interesting tension.
Trilogie du Minotaure (2013-2015)
This video trilogy tells the story of the tragic family history of the Minotaur from three different perspectives: family, sex, and love.The Minotaur usually stands as a symbol of tragic brutality and pathos, yet in this version Mary Reid Kelley's monster is female and in search of familial acceptance. Pasiphae is a cross between the actresses and sex symbols Pamela Anderson and Bo Derek, while during the film Theseus turns into the ancient god of fertility
Priapus. The character of Priapus is inspired by poems about the character Sweeney (Sweeney Agonistes from 1932) by the British-American poet T.S. Eliot (1888-1965), whereas that Minotaur is inspired by Jorge Luis Borges' (1899-1986) portrait of the monster in his short story La casa de Asterión from 1947.
Unique mural
For this exhibition at M the artist has realized a unique mural bringing to mind a life-size set from the films. All graffiti and quotations come from the Minotaur Trilogy. The wall acts as a reference to the walls of the female Minotaur's labyrinth, where (mostly) lost visitors left behind their ultimate message.
Performance during Playground (17-20 november)
During Playground festival Mary Reid Kelley and Patrick Kelley present a live work, This is Offal, in which a pathologist examines the body of a woman whose own organs demonstrate their confusion and misunderstanding about her suicide. While her liver, heart and brain argue about what exactly took place, there's certainly no hope of finding a rational, scientific explanation for this most tragic and complex of human actions. This is Offal ghoulishly enacts Camus' philosophy of the absurd as a counter to suicide.
Biography
Mary Reid Kelley (1979, USA) lives and works in Olivebridge, New York. She recently exhibited at Hammer Museum, Los Angeles (2015), Neuer Kunstverein Wien, Vienna (2014) and Boston Institute for Contemporary
Art (2013). Earlier this year she won the MacArthur Fellowship 2016 as well as the Baloise Art Prize for her latest film This is Offal. Her work is represented by Fredericks & Freiser Gallery in New York, Pilar Corrias in London, Susanne Vielmetter Los Angeles Projects, and Arratia Beer in Berlin.
Running parallel to the exhibition in M Leuven is A Marquee Piece of Sod. The WWI films of Mary Reid Kelley at Kunsthalle Bremen (until 19.02.17). The exhibitions compliment one another and together they present Mary Reid Kelley's video oeuvre in its entirety for the first time in Europe.
Practical information
Mary Reid Kelley. 30.09.16 >< 08.01.2017 at M-Museum Leuven
Curator: Valerie Verhack
Veerle Ausloos Press and communication, M - Museum Leuven