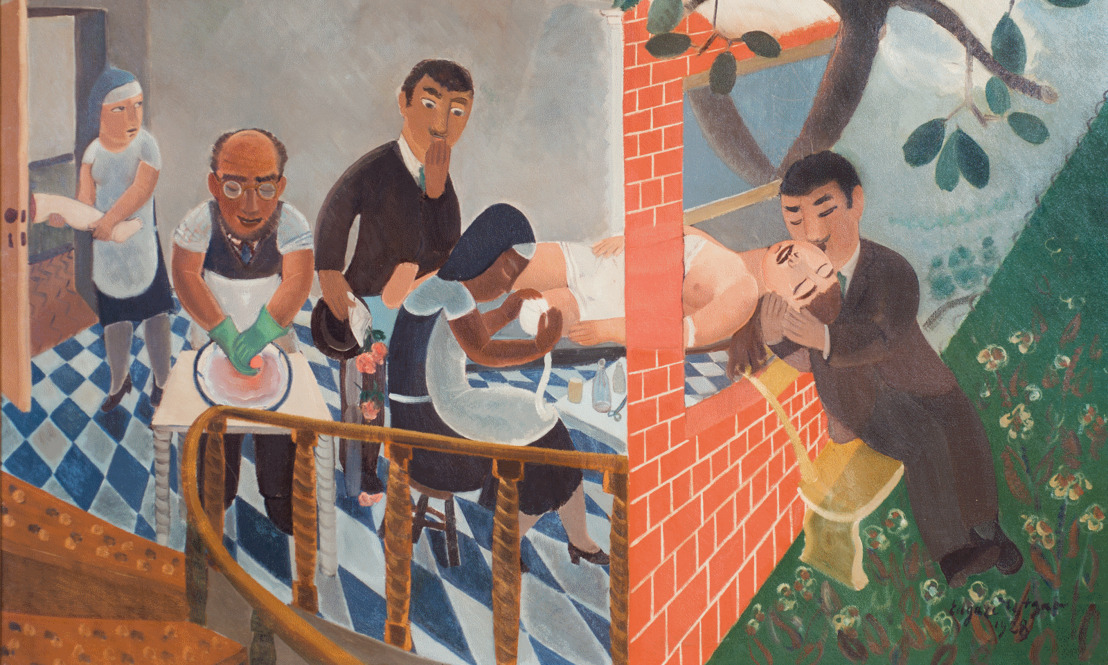 Edgard Tytgat. Memory of a Beloved Window
Thursday, December 7, 2017 — The Brussels-based artist Edgard Tytgat (1879-1957) was a painter, author, and engraver, but more than anything, he was an incredible storyteller. He observed everyday life with an acute sense of detail or drew inspiration from mythology or art history. On his canvasses, he translated these inspirations into complex images that combine fantasy, absurdity and humour in disarming ways. His style was unique in the history of Belgian painting. M is bringing the born storyteller and painter Edgard Tytgat back to life with more than 70 works from both museum and private collections. The exhibition 'Edgard Tytgat. Memory of a Beloved Window' runs from 08.12.2017 until 08.04.2018 at M-Museum Leuven.
Edgard Tytgat
The Brussels-based artist Edgard Tytgat (1879-1957) painted almost five hundred canvasses as well as hundreds of watercolours, woodcuts, etchings and drawings. He pulls out all the visual stops to create a bittersweet world, characterized by clumsy drawings of figures, simple lines, strange perspective and muted, simplified colours. His art is thus impossible to categorize as a particular '-ism'. Nevertheless, Tytgat's style, which is combines impressionist, expressionist and modernist components, is clear and recognizable.
Love for the Window
Tytgat's own life was a profound source of inspiration. All his themes were painted inside his own house, with scenes and characters from his own life. They include his wife, Maria, who was his muse, and his good friend Rik Wouters. This means that his oeuvre is deeply autobiographical, with the window as a frequently recurring theme. As Tytgat himself wrote: "I love windows… It is from there, the upstairs window, that I attempted to reproduce the impressions that overwhelmed me. You see all the beautiful things that the window offered me. It is through the window that I learned to love light, fairs, children, and all the things that cause a commotion."
Bittersweet Nostalgia
Edgard Tytgat's paintings are immersed in an atmosphere of lost innocence, eroticism, vaudeville, etc. They frequently feature children, young women, nuns, monks, musicians, carnies, fairs, the circus, Greek myths and biblical stories. These are all subjects, titles, and characters that are difficult to decipher at first glance. Curator Gust Van den Berghe: "Tytgat painted a fairy tale with no plot. If you look at many of his works together, you soon see the outline of a larger, invisible story. As I mentioned, it is plotless, but there are too many overlaps for it to be a coincidence."
According to curator Peter Carpreau, Tytgat's real power lies in his virtuoso storytelling. "Tytgat's inherent legacy is immense. You have to dive into his works to get to know him. And you gradually discover that he brought together all the visual narrative techniques since the Middle Ages in his paintings. This is precisely what makes him unique in the history of Belgian painting, and what we will be highlighting in this exhibition."
Cinematic Visual Language
Sixty years after his death, this exhibition is putting Tytgat back in the spotlight. In addition to more than 70 oil paintings, M is presenting previously unseen archival material including videos, diaries and short stories. Director and co-curator Gust Van den Berghe saw visual language in the work of Swedish director Roy Andersson that is very similar to Tytgat's narrative style. Both Andersson's and Tytgat's worlds are enriched through the juxtaposition of their works.
Curators
Peter Carpreau & Gust Van den Berghe
Veerle Ausloos Press officer, M - Museum Leuven