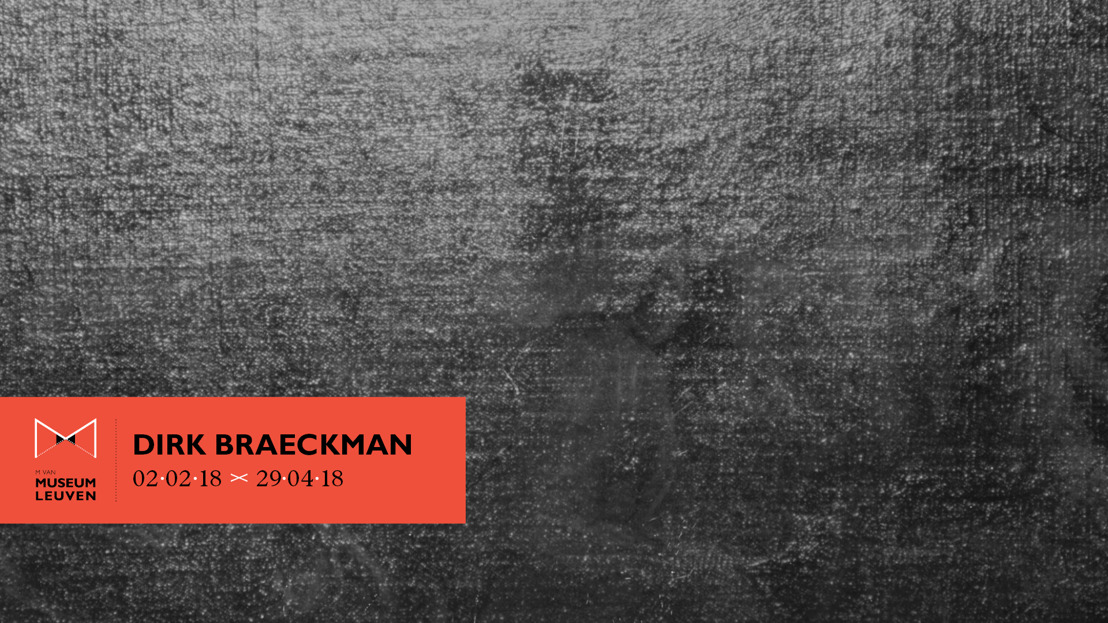 Dirk Braeckman opens double exhibition at M-Museum Leuven and BOZAR Brussels
Wednesday, January 31, 2018 — The 57th International Art Exhibition of La Biennale di Venezia closed its doors on 26 November, marking the end of Dirk Braeckman's show in the Belgian Pavilion. The Biennale Arte 2017 drew around more than half a million visitors, which made it the most important international platform to date for Braeckman's work. The next chapter will be his double exhibition at M-Museum Leuven and BOZAR Brussels.
Dirk Braeckman
Dirk Braeckman decided to study photography in the late 1970s in preparation for becoming a painter. Ten years later, he achieved his first signature black-and-white analogue prints with suggestive and somewhat enigmatic images. They are recognizable, yet flirt with representation, abstraction and the reality of what is shown. Braeckman wants to stretch the moment of the photograph, he is interested in a certain tension or experience, free of any anecdote. His quest for powerful and compelling images relates to art history, especially painting.
Double exhibition
The Venice exhibition forms the starting point for a Dirk Braeckman double show at M-Museum Leuven and BOZAR Brussels. The new exhibitions will complement one another and highlight individual aspects of the artist's multifaceted practice. Braeckman will show 20 works at BOZAR of a scale in keeping with the architecture of Victor Horta. The focus in this case will be on his monumental prints – chiefly work from Venice, consisting of new work and a selection of earlier images. M, meanwhile, will concentrate on Braeckman's experimental side. Spread over two of the museum's galleries, the artist will offer visitors a unique view of his darkroom and also show examples of his smaller-scale work on paper. His experiments with new media will also feature, including a large projection tailored to M.
You can find the press file and the list of works at the bottom of this page.
Biographies
Dirk Braeckman has spent the past 25 years gradually developing an extensive portfolio. Working with the medium of photography, he occupies a distinctive place within the visual arts. He has taken part in at M — Museum Leuven, Le Bal in Paris, BOZAR in Brussels, De Appel in Amsterdam, S.M.A.K. (Museum of Contemporary Art) in Ghent. He is represented by Zeno X Gallery Antwerp where he exhibits since 2001. Recent gallery shows include Thomas Fischer Gallery in Berlin and RoseGallery in Santa Monica. Braeckman's works are part of private and public collections around the world, including in FRAC Nord-Pas de Calais, Sammlung Goetz, FNAC Paris or Musée d'Art Contemporain et Moderne in Strasbourg.
Eva Wittocx is senior curator at M — Museum Leuven, where she develops the contemporary art programme focusing on solo exhibitions by both emerging and established artists. She also writes about contemporary art and curates the yearly performance festival Playground. She was a curator at the S.M.A.K. (Museum of Contemporary Art) in Ghent from 1997 to 2006, at the STUK Arts Centre between 2006 and 2009, and of the Belgian Pavilion at the Venice Biennale in 2017.
Publication
The exhibition is accompanied by a new publication presenting a selective overview of Braeckman's artistic practice, with a focus on his recent work for the Belgian Pavilion. It consists of 167 images and 3 essays in English by Douglas Fogle, Hubertus von Amelunxen and Eva Wittocx. Published by König Books, Cologne (€ 39,80).
Practical information
Flemish Culture Minister Sven Gatz appointed Dirk Braeckman and curator Eva Wittocx to represent Belgium at the Biennale Arte 2017. The homecoming exhibitions are a continuation of that assignment.

Exhibition M-Museum Leuven : 02.02 – 29.04.2018
Exhibition BOZAR : 01.02 – 29.04.2018
Curator: Eva Wittocx (M-Museum Leuven)
Veerle Ausloos Press officer, M - Museum Leuven