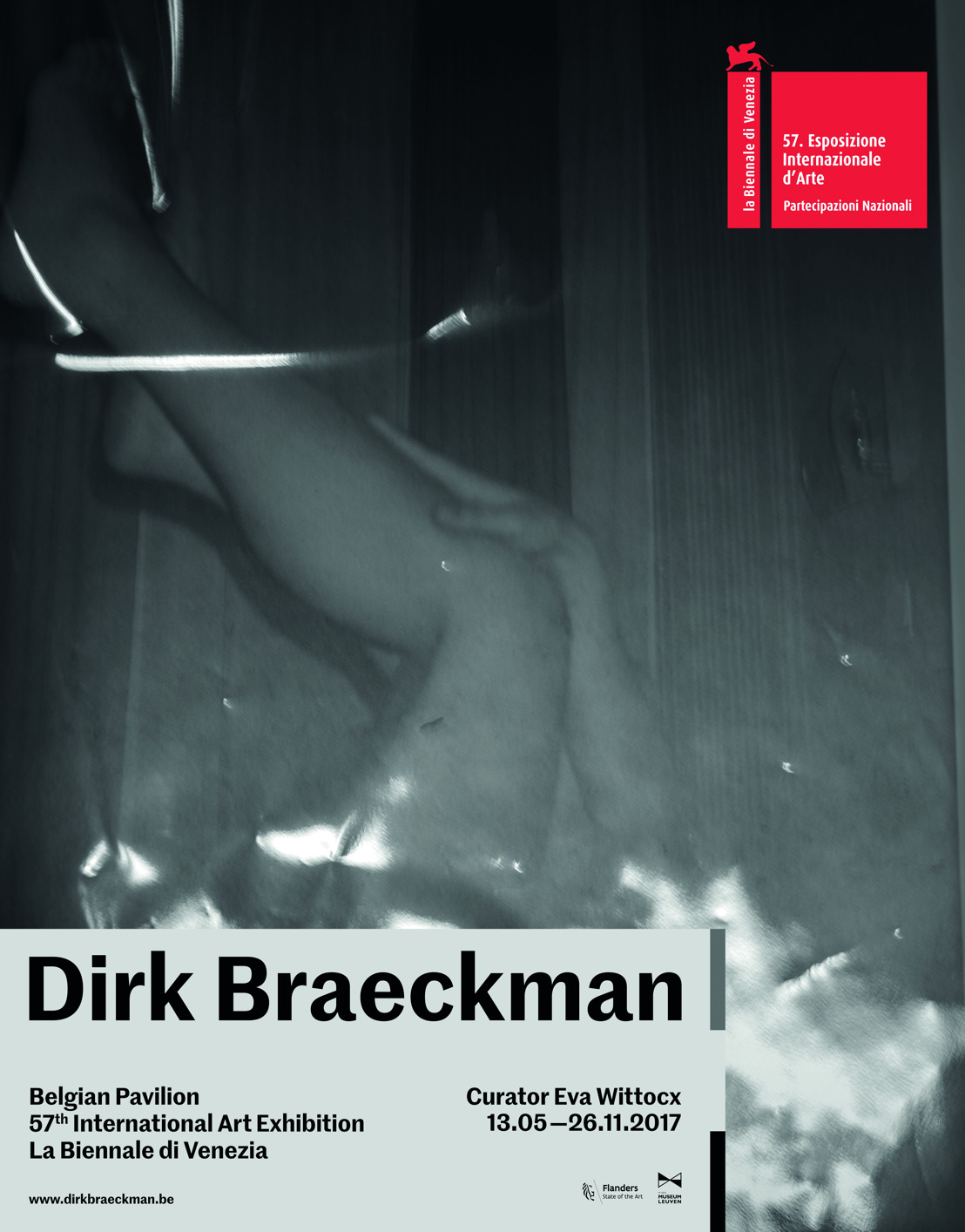 Dirk Braeckman creates new work for the Belgian Pavilion
Thursday, February 16, 2017 — Dirk Braeckman has been commissioned by Sven Gatz, Flemish Minister for Culture, Media, Youth & Brussels to represent Belgium at the 57th Venice Biennale. His exhibition in the Belgian pavilion will be curated by Eva Wittocx, senior curator of M-Museum Leuven. M-Museum Leuven will function as the organizing institution for this exhibition.
The Belgian Pavilion is presenting a series of monumental photographic prints on baryta paper. The unique, analogue prints are made using negatives from Dirk Braeckman's archive, with the artist sometimes creating multiple images from the same source. The exhibition focuses on new work in grey tones, produced in Braeckman's darkroom.
Dirk Braeckman: "The exhibition in the Belgian pavilion will mainly consist of new pieces; unique prints I create in my dark room, a space that functions as an artist's studio for me. My recent work will be a response to the multitude and speed of images today. Slowness and resistance are core to both the creation process as well as the images themselves. It's not about photographs that can be duplicated or recognized at a glance. It's about powerful images that don't reveal everything and allow their meaning to be shaped in dialogue with the viewer."
Eva Wittocx: "Dirk's new images seem familiar, but they also introduce new directions in his oeuvre. The exhibition at the Belgian pavilion will be a challenging balancing act between creating an autonomous and strong exhibition, and introducing his work to new audiences."
Stillness against today's influx of images and information
Dirk Braeckman's work brings stillness to today's influx of images and information. Working with analogue photography, towards the end of the 1980s, he found a visual language that reflects on the act of viewing and the status of the image. The artist explores the boundaries of his medium and challenges photographic conventions by rephotographing existing photographs or adding dust, hair and other elements. The camera's flash reflects off the surface of the subject, the texture of walls, curtains, carpets and posters.
Braeckman's images depict anonymous subjects from his immediate surroundings. Stripped of anecdote, the stories they suggest are entirely open. The artist shows empty rooms in which time appears to stand still, elements of interchangeable interiors or human figures that stand only for presence – all separate from any specific identity, place, time or emotion. Intimacy and distance combine in Braeckman's photographic images to make a private, secluded world whose meaning remains undefined.
Experimentation in the darkroom
Dirk Braeckman essentially creates his images in the darkroom. Experimentation is crucial for both their registration by the camera and their subsequent processing. The exposure, manipulation and development of the negative and photographic paper consistently result in new and unrepeatable images. Grain, spots, cropping and flattening of perspective resist an immediate reading or interpretation of his work. Over- and underexposure as well as working in grey tones heighten the iconic character of his images.
Save the date
The opening of the Belgian pavilion will be held on May 10, 2017. The press days will take place on May 10, 11 and 12, 2017 from 10am until 6pm. The 57th International Art Exhibition—La Biennale di Venezia will open on May 13, 2017, and will be on view until November 26, 2017.
Information about press accreditation:
http://www.labiennale.org/en/art/press/press_art.html#enpress
Dirk Braeckman, Belgian pavilion, La Biennale di Venezia
Commissioner: Sven Gatz, Flemish Minister for Culture, Media, Youth & Brussels
Curator: Eva Wittocx
Organisator: M – Museum Leuven
With the main support of: Nationale Loterij – Loterie Nationale, Fondation Willame
With support of: Filliers Dry Gin 28, Friends of the Belgian pavilion, IC Verzekeringen – CI Assurances
Partners: BOZAR Brussels, Flanders Arts Institute, KU Leuven, Zeno X Gallery Antwerp​