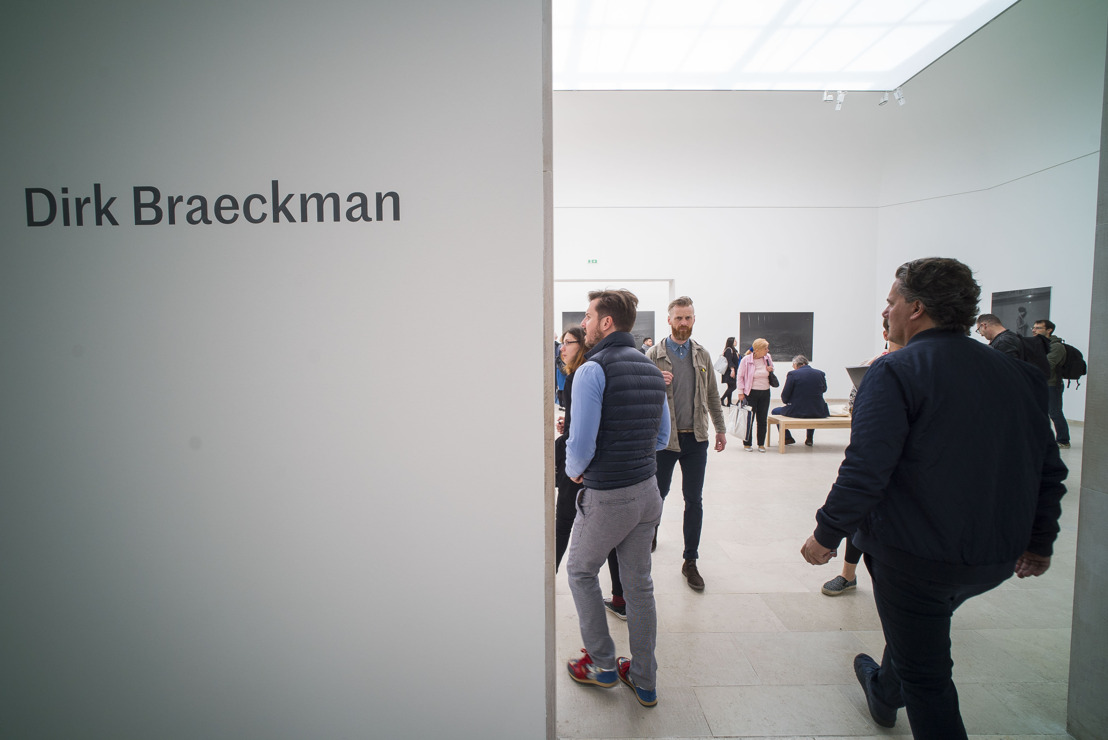 Dirk Braeckman and Eva Wittocx look back at the Biennale Arte 2017
Preparations in full swing for double exhibition at M-Museum Leuven and BOZAR Brussels
Thursday, December 14, 2017 — The 57th International Art Exhibition of La Biennale di Venezia closed its doors on 26 November, marking the end of Dirk Braeckman's show in the Belgian Pavilion. The Biennale Arte 2017 drew around 615 000 visitors, which made it the most important international platform to date for Braeckman's work. The next chapter will be his double exhibition at M-Museum Leuven and BOZAR Brussels. There will be a press preview of both shows on 31 January 2018.
Looking back
For Dirk Braeckman, this exhibition came at just the right moment in his career. 'The international stage it provided meant I could make a lot of new contacts. I was also overwhelmed by the reactions of the visitors. Some of them were so touched by the installation that they actually came back several times.' Curator Eva Wittocx, from M Museum Leuven, also looks back with satisfaction. 'The exhibition has undoubtedly been a springboard for Braeckman's work. All sorts of opportunities await, in both the near and longer term.'
The international art press was full of praise for the Belgian artist's exhibition. There was widespread media interest, with some 30 international press articles and over 60 Belgian ones. In the midst of the Art Biennale's bustle, Braeckman managed to create 'a place of purity, a sanctuary of consolation' with his 'trademark atmospheric compression'. Braeckman's publication had already sold out by the beginning of the summer and a second impression followed.
Dirk Braeckman double exhibition at M and BOZAR
Flemish Minister of Culture Sven Gatz: 'Dirk Braeckman and Eva Wittocx brought serenity and powerful images to the Belgian Pavilion. Braeckman's unique analogue prints heightened our gaze and offered respite from today's overdose of fast-moving images. In that way, the Belgian Pavilion offered its visitors a moment of silence and tranquillity. I'm delighted that we will soon be able to see this wonderful ode to Belgian photography at M Museum in Leuven and BOZAR in Brussels too.'
The Venice exhibition forms the starting point for a Dirk Braeckman double show at M-Museum Leuven and BOZAR Brussels. The new exhibitions will complement one another and highlight individual aspects of the artist's multifaceted practice. Braeckman will show 20 works at BOZAR of a scale in keeping with the architecture of Victor Horta. The focus in this case will be on his monumental prints – chiefly work from Venice, consisting of new work and a selection of earlier images. M, meanwhile, will concentrate on Braeckman's experimental side. Spread over two of the museum's galleries, the artist will offer visitors a unique view of his darkroom and also show examples of his smaller-scale work on paper. His experiments with new media will also feature, including a large projection tailored to M.
Save the date: press preview
There will be a press preview of both shows at M and BOZAR on 31 January 2018. More information on the press programme will follow later.
Practical information double exhibition
Flemish Culture Minister Sven Gatz appointed Dirk Braeckman and Eva Wittocx to represent Belgium at the Biennale Arte 2017. The homecoming exhibitions are a continuation of that assignment.
Exhibition at M Museum, Leuven: 2 February–29 April 2018
Exhibition at BOZAR, Brussels: 1 February–29 April 2018
Curator: Eva Wittocx
Practical information
Belgian Pavilion | 57th International Art Exhibition of La Biennale di Venezia
Commissioner: Sven Gatz, Flemish Minister for Culture, Media, Youth and Brussels
Curator: Eva Wittocx (M Museum Leuven)
Organizing institution: M-Museum Leuven
Principal sponsors: Nationale Loterij, Fondation Willame
Sponsors: Filliers Dry Gin 28, IC Verzekeringen/Assurances, Friends of the Belgian Pavilion
Partners: Centre for Fine Arts (BOZAR) Brussels, Kunstenpunt, Zeno X Gallery Antwerp
Scientific partners: KU Leuven, Lieven Gevaert Centre, LUCA School of Arts
www.dirkbraeckman.be | www.dirkbraeckmanvenice2017.com | www.belgianpavilion.be | www.mleuven.be
Veerle Ausloos Press officer, M - Museum Leuven