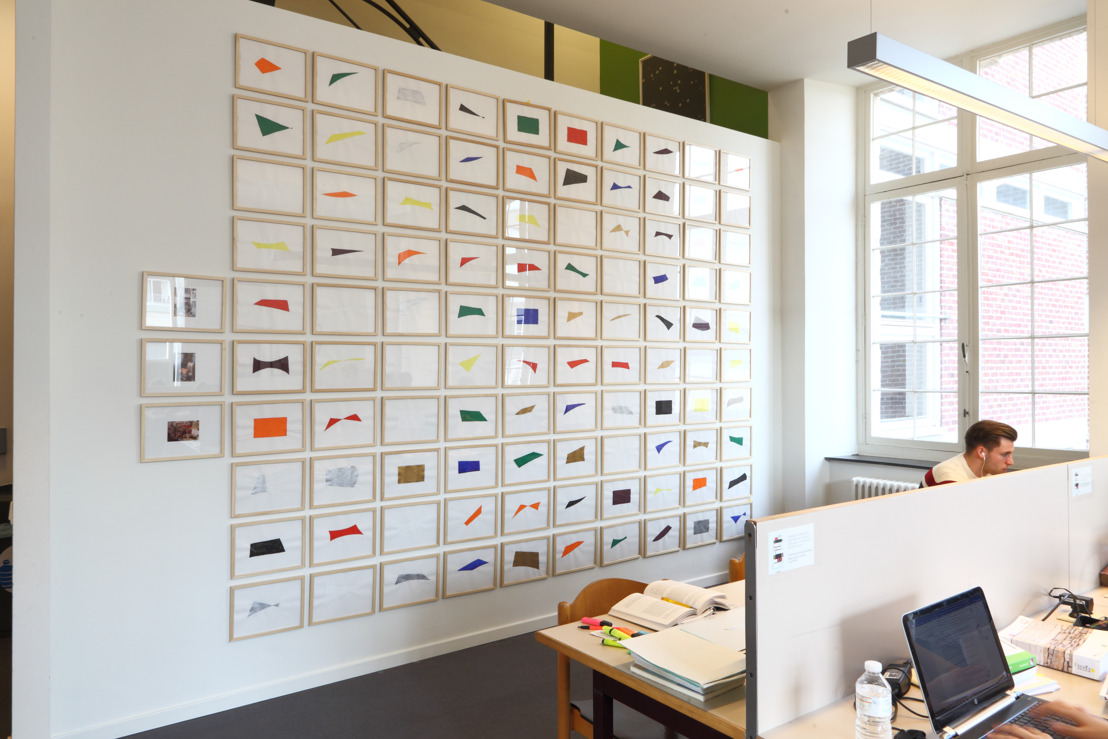 M presents contemporary Belgian art on location
Tuesday, March 14, 2017 — From 17 March until 9 July 2017, M-Museum Leuven, in cooperation with the Faculty of Law, KU Leuven and the support of Cera, is presenting a selection of contemporary Belgian artworks in De Valk College. The exhibition Entre nous quelque chose se passe… comprises a series of works by various Belgian artists: Jacques Charlier, David Claerbout, Patrick Corillon, Lili Dujourie, Christoph Fink, Guy Mees, Ria Pacquée, Walter Swennen, Philippe Van Snick and Jan Vercruysse. The exhibited works are all on long-term loan from Cera to the M Collection.
Artworks in dialogue
Abstract or figurative, ambiguous meanings, references to interpersonal relationships: an artwork van evoke tension in a variety of ways. Each of the works in the exhibition Entre nous quelque chose se passe… contain a certain tension or duality. The title of the exhibition refers to this shared characteristic and is also a metaphor for the collecting and exhibiting of art as such. What happens when you bring different pieces from a collection together in one space? How do the works relate to one another?
At the same time, the title refers to a video work by Ria Pacquée that is also featured in the exhibition. The video documents the behaviour of people visiting a city park in Paris. The result is a portrait of anonymous passers-by who all make the same concentrated, repetitive movements. Unconsciously, their behaviour mirrors our own as viewers.
A library becomes a museum
Since 2013, exhibitions have been held in the library of De Valk College every year. The building has bears little similarity, however, to the so-called white cubes in which contemporary art is usually exhibited. The semi-public space in which the works are shown is a functional context where bookshelves and reading desks can only make a limited space available for art. On the other hand, the library has enormous potential, with several hundred students visiting the site every day. Immersed in an atmosphere of silence and concentration, the artworks invite passers-by to stop and look, reflect, and look again.
A living collection
Since 2012, M–Museum Leuven has managed the collection of contemporary art that Cera started procuring in 1998. The collection is made up entirely of post-war Belgian art and was recently been re-enlivened with new acquisitions. Every year, M organizes an exhibition of a selection of works from this collection, which is kept in long-term loan from Cera. Each exhibition has a different focus, ranging from monographic to thematic approaches, and thus features different works from the collection.
Practical information
Entre nous quelque chose se passe… runs from 17 March until 9 July 2017 in the Library of the Faculty of Law, KU Leuven, Tiensestraat 41, 3000 Leuven. Opening hours: open from Monday until Thursday from 9 am to 11 pm, Friday from 9 am until 9 pm and Saturday from 10 am until 6 pm. Admission is free.
This exhibition is a collaboration between M and the Faculty of Law, KU Leuven, with the support of Cera.
Curator: Valerie Verhack
Annelies Evens Diensthoofd communicatie, M - Museum Leuven