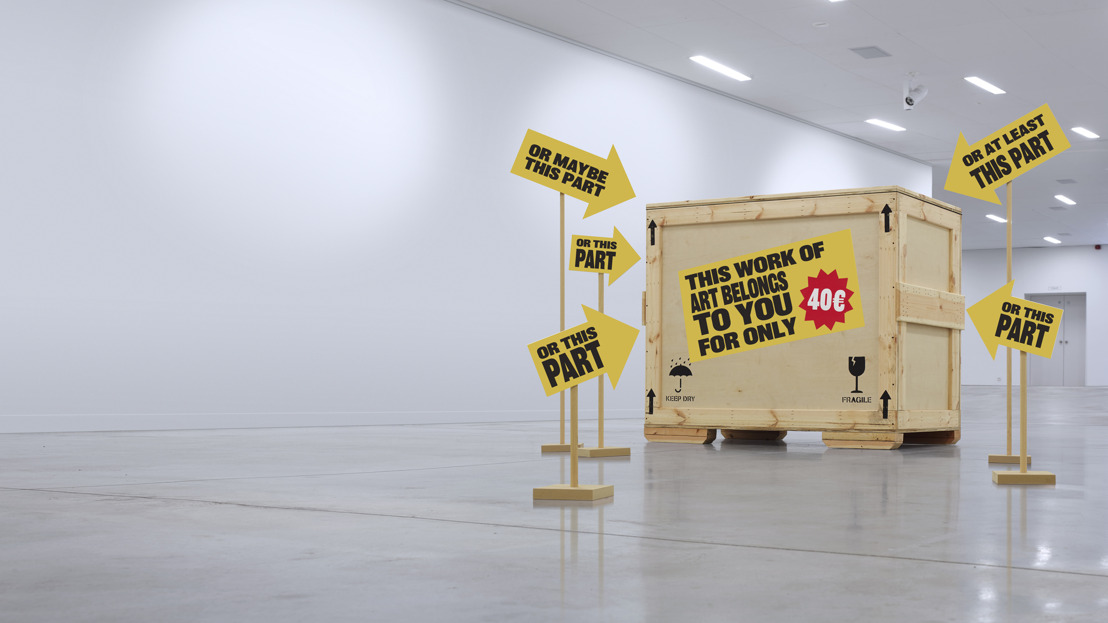 Art is for everyone
M Leuven, Cera and the city of Leuven support rising talent and M launches crowdfunding
Monday, November 30, 2020 — M Leuven, the city of Leuven and Cera are launching a common initiative to give upcoming artists extra breathing room by buying their work and exhibiting in M's museum rooms. The initiative brings together private funding and government support. Art is for everyone. To enjoy it, but also to care of it together.
The city of Leuven and Cera are each investing € 50,000 to support rising talent due to the consequences of the corona crisis on the arts sector. It is hoped that this sum will enable them to acquire works by about twenty artists, and to bring their art to the exhibition rooms at M. In addition, M is launching a crowdfunding campaign through the museum fund M-LIFE, that is managed by the King Baudouin Foundation, in order to support even more artists with the help of the general public.
"In Leuven, we receive questions from residents about how they can help to alleviate the difficult situation in which artists now find themselves. We are very happy to give them an opportunity through a crowdfunding campaign with our museum fund M-LIFE, supported by the King Baudouin Foundation. This initiative is intended to increase the acquisition portfolio that the city and Cera are investing. With these combined means, we hope to be able to offer a boost to about twenty artists who are active in Belgium", says Denise Vandevoort, Chair of M and Leuven's City Councillor for Culture.
Breathing room
"In the midst of this pandemic, vulnerable groups often become even more vulnerable. The cooperative Cera, known for its social commitment, is attentive to this issue. In March, Cera's initiative 'Co-Vitaminen' gave financial support to 70 organisations in youth welfare. In April and May, Cera supported 616 organisations fighting poverty. M, Cera and the City of Leuven now combine their efforts to help visual artists. We shall do so by acquiring a number of works of art by upcoming artists. These works will be included in the Cera-collection and shown at M, which means a lot for artists in the tough times they are going through" says Johan Massy, Cera Art and Culture Steering Committee.
Eva Wittocx, Curator of Contemporary Art at M Leuven, adds: "Our ambition is to make a selection representing a number of unique voices in the Belgian arts landscape; artists who have already developed an exceptional oeuvre. Through direct acquisition, we hope to give them extra breathing room, primarily in financial terms, but also by giving them public visibility at M."
A committee of four experts in contemporary art will make the selection together. This committee will consist of Eva Wittocx and Valerie Verhack from M Leuven, Hicham Khalidi, Director of the Jan Van Eyck Academy in Maastricht and curator Louis-Philippe Van Eeckhoutte from Brussels.
Art is for everyone
"The message we seek to convey is that art is by and for everyone. We must thus take care of it together, ensuring that we continue to create fertile soil and do not allow our arts landscape to become desolate", says Peter Bary, General Director of M. "Bringing art to the general public is the essence of M. The public can help us to fulfil this mission by making a donation and contributing to the acquisition of artworks that are now still unknown. He or she will thus become the emotional owner of that artwork."
Practical information
Those who want to support the initiative can do so via M-LIFE.be. Contributions of € 40 and above are tax deductible. In 2020, you can exceptionally deduct 60% of donations of € 40 and above. This means that the real cost of a € 40 donation is only € 16. M will present the artists and artworks in an exhibition that will open in Spring 2021 and end in Autumn 2021. Afterwards, the works will be shown in collection presentations at M.
Even more good news: as from Thursday 10 December, M will be welcoming visitors again, at the museum and Saint Peter's Church. As from Tuesday 8 December, a timeslot can be booked on mleuven.be.
Eva Wittocx wrote down the need to support our Belgian art scene in an opinion piece. Read it here.
Denise Vandevoort Chair of M Leuven, Counsillor for Tourism and Culture